I'm hosting a blog hop! I'm a blog hop hoster! I hope you'll humor me and link up so I don't look like a dumbass to the whole entire Blogiverse. I
f you're new to this blog or missed the heads up, it's pretty simple and straightforward - you write a post on Friday - just 5 minutes or so. It could be a wrap up of your week, it could be a miscellaneous ramble, a to-do list, a grocery list... anything really. Maybe even be a weekly topic if people seem interested. Then, you link up at the bottom of this post, and that's it! Well, of course it would be nice if you read any other links and commented, but still, simple stuff right? It's also a nice way to meet and connect with other bloggers out there, apparently. So come on guys... in the famous words of the Nike advertisers, just do it! I even made an official button! Because I am so official and stuff. Feel free to share it anywhere on your blog.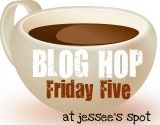 My current view...
So anyway, it's Friday, again. It's still morning but I was up and at 'em pretty early. First with phone calls and texts from the school at some ungodly hour of like 6:30 am or something. They were calling and texting to inform me that school was delayed, and then again a bit later to tell me that school was in fact cancelled due to snow. So all of that sort of woke me. Then, Alex got up to get the day started at another ungodly hour of 7:30 or something. He actually had to be at a meeting he couldn't be late for at 9ish, and he knew he was going to have to shovel a little bit, so there was that. Then, a bad thing happened. Alex went to let Maizie out of her crate and discovered she had gone to the bathroom in there, like she must have had a sick stomach, poor pup.
So, he thankfully cleaned out and disinfected the crate while I gave her a bath. Ugh. It was far too early to be dealing with such disgusting crap (literally), let me tell you. Even the kids were still asleep. Sheesh. Maizie was not appreciating the bath one bit either.
Ah, she got over it. But I am semi-freaking out. I have a terrible feeling Maizie might have a few buns in the oven, and that is a BAD THING. She's still a puppy! Also, it is totally my fault because she went into heat before I got her spayed... then of course they won't let me get her spayed til she's done, which is like, now. I don't even know what to do about that! I've been super careful about watching her, making sure no dogs were around, etc. The biggest problem, besides the fact that there are plenty of mutt puppies and dogs out there and we don't exactly want to add to that, is that because she's so small and I'd have no idea what dog she hooked up with, it could be a bad thing! Like, how could she ever have a 1/2 Rottweiler pups or something? I totally need to bring her to the vet.
So, I'm sorry that I am somewhat cranky. This m-effing cleanse is still on, just wrapping up the second of three weeks, and I am kind of wanting something besides everything healthy. I could really use a fucking donut! Apparently that's not on the cleanse. The question is, will one donut ruin everything?? Probably. Damn it. My mind is so wrapped around the thought of eating sweet things right now, it's hard to focus on other things. I'm not hungry at all really. I really enjoy what I am eating, surprisingly. I guess it's more mental. Ugh. I'm ready to be done!
Well, times up. Happy Friday guys. Link up and tell me fun things and entertain me! I really need some good distraction right now...