I'm hosting a blog hop! I'm a blog hop hoster! I hope you'll humor me and link up so I don't look like a dumbass to the whole entire Blogiverse. I
f you're new to this blog or missed the heads up, it's pretty simple and straightforward - you write a post on Friday - just 5 minutes or so. It could be a wrap up of your week, it could be a miscellaneous ramble, a to-do list, a grocery list... anything really. Maybe even be a weekly topic if people seem interested. Then, you link up at the bottom of this post, and that's it! Well, then it would be nice if you read any other links and commented, but still, simple stuff right? It's also a nice way to meet and connect with other bloggers out there, apparently. So come on guys... in the famous words of the Nike advertisers, just do it! I even made an official button! Because I am so official and stuff. Feel free to share it anywhere on your blog.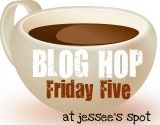 It's Friday morning, pretty early. So we're in Florida. We've been here since last weekend, and are getting ready to wrap up the week, heading back home tomorrow. It's been so nice here, and so crappy at home. I love that we had a great weather week, that we missed a bunch of cold, rainy/sleety weather. We spent the week at a resort at Disney, meeting up with two of my sisters and their families and a friend and her family. Everything has gone really smoothly. I love this vacation.
We do hit the parks, but we kind of have a great system, so it doesn't suck. Also, my sister Ali is a bully. Today we are headed to Animal Kingdom for a few hours, then hopefully will spend the rest of the day poolside, just yapping and relaxing. I appreciate yapping and relaxing a lot.
Next week I will be sure to post a bunch of stuff about our week, and some gratuitous pictures for your viewing pleasure. Because I'm sure you're all three on the edge of your seats.
Time's up! Happy weekend all!